Q&A: Huntington previews Pirates roster as spring training begins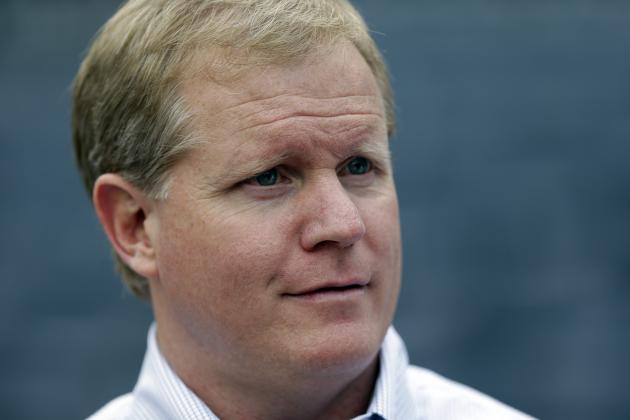 Pirates general manager Neal Huntington Gene Puskar/AP
Still in snowy Pittsburgh for the next 24 hours but wanted to pass along the transcript of my chat last week with Pirates general manager Neal Huntington. We talked a little bit of everything, as I was working on a couple stories — five questions and position battles — but it should be plenty to whet your whistle before things get going this week.
Nesbitt: The "Can Pedro Alvarez handle first base?" question has been swirling for a long while now. Are you eager to lay the hypotheticals aside and finally see him back in action?
Huntington: "Yeah, we're looking forward to Pedro working hard in spring training to get off to a good start and put himself in a position to have another quality season for us. He's not the first player and he's not going to be the last player who has put up a couple quality seasons and then had a tough one. He's a smart young man. He's a driven young man. We're looking forward to him doing some damage in the batter's box for us this year and making a good adjustment to first base."
He spent the offseason training in Nashville, if I've got my facts straight. Signs point to him being healthy as camp begins?
"Every indication is he's had a normal offseason as far as his foot goes. He's going to come into spring training ready to go."
What roles do you see Corey Hart playing this year, and much outfield can his knees handle?
"We'll see exactly where he is once we get to spring training and as we work through spring training and even through the season. He had a significant surgery going into the 2012 season, and the surgery he had historically the second year out is a big year. He worked this offseason as a baseball player, not as a rehabbing injured player. That's a big difference for guys. We'll see where Corey is when we get to spring training. Our thought is that first base and the outfield are both potential options for him to get into the lineup, whether it's protecting Pedro at first base against left-handed starters. But we anticipate Corey being in the lineup against most every left-hander."
You've given Gregory Polanco a couple major votes of confidence recently, but what can you do as an organization to help make it through a full, consistent season?
"The challenge of players from Latin America is the desire and pressure to play winter ball sometimes. Gregory had a very long 2013 leading into 2014 season. Part of it was fatigue. Part of it was the league made an adjustment and he struggled to adjust back. We prevented him from playing winter ball this year, and we feel like we've put in place some things going back to last season to help him make adjustments. He's just a very talented player that's very smart and very driven. He's a guy we feel is going to be able to make those adjustments as we move forward this year, and he'll have a quality offseason of work under his belt to be able to withstand the rigors of a major-league season and postseason."
Are you confident he can handle lefties?
"We are. He's done it at the minor-league level. There's always an adjustment to the quality of major-league pitching, especially from the same side, but we do. There are things he does — he hangs in well, drives the ball to left-center field well — that should allow him to be successful against left-handed pitching at the major-league level."
After moving Travis Snider last month, what options do you see for the fourth outfielder?
"Really it's going to be how that last spot on the bench best complements our existing club. Sean Rodriguez can go play left and right field. Corey Hart can play left and right field. Depending upon what happens around the infield and how quickly [Jung Ho] Kang adjusts and gets acclimated to major-league baseball, Josh Harrison can still play left and right field. There's no question Andrew Lambo could be a great fit as another left field/right field/first base option. [Jose] Tabata certainly fits in that mix. Jaff Decker. Now, if we want to get really creative, Pedro Florimon could make the club as a defender/pinch runner. Steve Lombardozzi, who we just acquired, is an incredibly versatile guy that can bounce around and play a bunch of different positions. We're going to have an interesting decision to make. Part of it will be a competition; part of it will be what we feel best complements the 13 position players or gives Clint [Hurdle] the best 13 positions players to go north with. It also may be a work in progress. It may be something we change based upon health, upon fatigue, upon opponents, upon how things are rolling. Again, as we've seen time and time again, the 25 guys we go north with aren't going to be the 25 guys there on May 1, June 1, July 1, August 1 or September 1."
You called the Jung Ho Kang signing a "calculated risk"; is there a certain amount of anticipation — either positive or negative — in seeing what kind of value you have in him as he gets around major leaguers for the first time?
"Absolutely. We're looking forward to getting to work hands-on with his adjustment to our culture, not just baseball-wise but America-wise, and the adjustment to major league baseball — the lifestyle, the workload, the difference between what he's used to and what we're used to. The difference in style, the difference in ability, the difference in pitch usage, the difference in travel. There's a ton that players that come from different countries and cultures go through. We feel we are in a good spot with him to help him adjust, to help him get up to speed and to get used to the new culture, new environment and new league. We're looking forward to him helping us win games."
Your starting rotation looks very familiar, with the chance you'll trot out the same five you did in 2013. What's the outlook for the back end of that rotation?
"It's actually six, seven, eight or nine that we feel good about. We feel they can get outs and put us in a position to win at the major league level as starting pitchers. We're really enthusiastic about Gerrit Cole's continued growth and development and what Francisco [Liriano] can do but also about the depth of our rotation. We get Charlie [Morton] healthy, which we think he's on a great track at this point in time. We add A.J. [Burnett], who we still believe there are indicators there that he can be a quality major-league starter and this will be a good year for him. Then you've got two other guys in Jeff Locke and Vance Worley competing for the final spot in the rotation who had ERAs under 4.00 with 100-plus innings and there weren't a lot of them that did that, when you look at the big picture in the National League. Then you have guys in the minor leagues who we're excited for their futures. We add guys like Radhames Liz, who we have scouts who feel he could start for us right now. Brandon Cumpton, who has obviously made some quality starts for us in the past. And then you've got a group of guys we're excited about for the future in [Nick] Kingham and [Casey] Sadler. That doesn't even include [Jameson] Taillon and [Tyler] Glasnow, who we're looking for down the road. Adrian Sampson is an interesting guy. And a guy who is not really getting talked about is Clayton Richard, who has put up two 200-inning seasons at the major-league level and is an interesting potential bounce-back guy by himself. We like the upside, we like the middle of our rotation, we like the depth of our rotation. Now we've got to go get it done."
You like where Gerrit Cole is at on the learning curve a year and a half into his big-league career?
"He's so talented but works very hard to perfect his craft. He is just focused on being excellent. Not on being good or being a big leaguer. His focus is excelling. His focus is on being elite. Those guys have a tendency to do some great things when they're just locked in and committed to doing what it takes to be great. He has high expectations for himself. Maybe a little too high at times. That comes through in maybe trying to be too perfect and not necessarily trusting just how good all of his pitches are. But it has been fun to watch his growth, and we're looking forward to yet another step forward this year."
What can you expect from A.J. Burnett, a guy who did good things in black and gold for two years and then had a lot of trouble last year in Philly?
"We feel that A.J. is going to go out and be a quality major-league starting pitcher for us. Don't expect 2013. Don't expect 2014. The thought is he'll be somewhere in between, and we're working hard to help him be closer to 2013 than '14."
The bullpen doesn't appear to have many surprises in store ...
"We're going to have a pretty solid foundation in the bullpen, with [Mark] Melancon and [Tony] Watson anchoring the back end and [Antonio] Bastardo and [Jared] Hughes bringing very different looks to give Clint the ability to mix and match to get through some mid- to high-leverage situations. One of the starters, depending upon when Charlie comes back — again, hopefully that's sooner than later — the starter that's not in our rotation, Locke or Worley, will be in our bullpen. Liz, a guy with a mid-90s fastball and a power breaking ball, is capable of multiple innings or of getting big outs. And barring injury, which there always will be, unfortunately, that leaves one spot for [John] Holdzkom to compete, [Arquimedes] Caminero to compete, along with a host of other arms that we've either acquired or have in the system. It'll come down to what do we feel best complements the other six guys in the bullpen? Do we need another multi-inning guy? Do we need a power guy? Do we need a breaking-ball guy? Stolmy Pimentel is in that mix. There's a handful of guys we've signed as minor-league free agents that have a chance to be in that mix. Again, much like the position-player group, it's going to be different on April 1 than it is on May 1, let alone August 1."
Take a guy like Stolmy Pimentel, who is out of options; do factors like that play into these decisions, too?
"That's where the players dictate that. Ideally as a front office you're looking for the players to tell you who is going to make the club and who is not. Those are the unfortunate decisions. When things are equal, things beyond players' control become a factor. When things are not equal, decisions are relatively straightforward. We've talked time and again that spring training numbers can be misleading. One wind-blown three-run home run can skew a pitcher's ERA during spring training significantly. One three-hit game in spring training can skew a hitter's numbers significantly. So, we've got to be careful and make sure we work hard to understand the process. How did we get to the results we got? Are they legitimate or soft results? Has he had bad luck? Did we play bad defense? Was there one bad pitch? So, we don't get caught up in the numbers but we get caught up in the process of how we produced the numbers we produced. Ultimately you're looking for the players to make those decisions for you, but when things are relatively equal things beyond the players' control do begin to get factored in."
Stephen J. Nesbitt: snesbitt@post-gazette.com and Twitter @stephenjnesbitt.